Soylent Bridge is the line's new low calorie (180c), high protein (15g) "Snack" Version
Note: See our more recent actual Soylent Bridge review of taste and packaging.
At long last, the people at Soylent have released a low-calorie version of their popular meal replacement drink. This high protein a low-calorie version makes for a great on-the-go snack that will give you a nice energy boost. The initial product launched in a predictable chocolate version. Generally speaking, the Soylent line tastes uniformly great – I'd expect that to continue here – we'll know soon enough.
Soylent has been a big part of my unemotional relationship with food where my main goals around meals are balanced nutrition, convenience, and portability. Especially for breakfast and lunch, I have no desire to spend energy deciding on what to eat. Enter Soylent, which basically allows me to do a "smash and grab" on the pantry along with a bottle of Soylent. Within seconds I can have a meal in my hands and be back to whatever I was doing before.
This is important to me as I generally want to avoid interrupting my focus or flow at the given time. Meals have a notorious effect of interrupting my day in a negative way where I find it very difficult to refocus after stopping all my momentum completely. This is a great on-the-go option that isn't a meal killer either. Meetings over or around lunch can often require very irregular meal times which these can help combat.
Soylent Bridge is now the default "diet" version that many have been asking for. Personally, this option is very appealing to me as convenience and balance are what I am after. Those watching their weight closely are unlikely going to be attracted to this option with so much competition in that space already. The Soylent target demographic seems to be on-the-go and/or young professionals.
Purchase Soylent Bridge (no referral links here)
Is Soylent Bridge a "Diet" Soylent?
Yes, officially. It will depend on what sort of diet you are on though. Those diets that include strict restrictions will need to check the nutritional facts closely as Soylent usually aims for balance, so it is likely to have what is on your 'no go' list. For many, it will be a great option for those "kinda" watching calories as part of a weight control diet.
If you know how many "points" this would be please email us with the info and we'll update the post. Our email is in the sidebar.
Jump to the nutritional facts lower in the post.
Where Can I Buy Soylent Bridge?
As the product just launched it is only available on their website: Purchase Soylent Bridge (no referral links here)
You can always purchase directly from the company and I recommend that path. Eventually, this will surely be on Amazon.com and other retailers.
Note about pricing! At times the bottles are on sale on Amazon.com which can be a good deal if you are a prime member. The variety and pricing vary often and greatly at times on Amazon, but can be good if you have a specific flavor that you like as they are most likely to have a deal. I use a Chrome extension called Keepa that helps show the pricing trends so you can make a smart decision.
What Does Soylent Bridge Cost?
The price of Soylent Bridged launched at just over $2 a bottle ($2.06), down $1 from the meal replacement line. This is a great price point and will make the drink much more practical for those using it pre and/or post workout, among other things.
Case: $26
Bottle $2.06
Soylent Bridge Nutritional Facts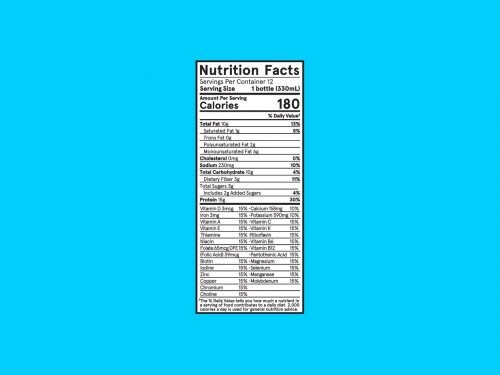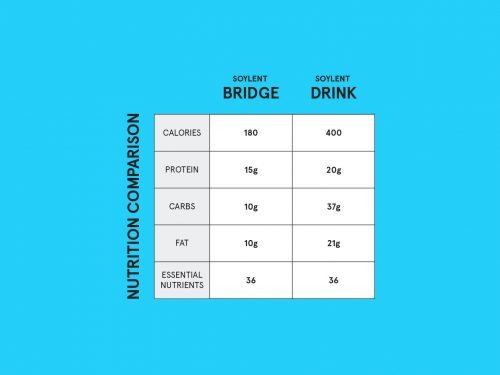 All images are sourced from Soylent.com. Soylent Bridge is a registered trademark of Soylent.