Meow Wolf is a growing company that curates art and immerses its audience into one-of-a-kind experiences. With a mission to challenge norms and embrace weirdness, they have created venues for audiences of all ages to view and interact with art of all kinds. The growing company is set to partner with True North Studio to expand into Phoenix's Roosevelt Row Arts District.
This multi-year project will combine an art exhibit with a fully-operational 400 room hotel designed by local artists. The goal is to allow guests to stay and sleep amongst the art. The site also promises to have a 10,000 square foot music and performance venue.
The idea for the hotel came when guests would ask to stay overnight in the company's Santa Fe exhibit. The Phoenix hotel will feature multiple different overnight experiences, such as faux-glamping, capsule rooms, communal hostel environments, absurd luxury suites, and lodging inside of the art exhibition itself.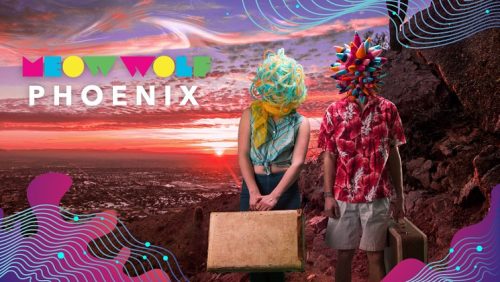 In celebration of the launch of the Phoenix project, a one-night-only showing of the Meow Wolf documentary, MEOW WOLF: ORIGIN STORY,  will be shown at True North's collaborative space, monOrchid. The film will give viewers an inside look at Meow Wolf's collection of creative collaborations, and the company's rise to acclaim as it grows into a multi-million dollar success.
Meow Wolf is set to open exhibits in Las Vegas and Denver. Their Santa Fe exhibit, House of Eternal Return, features non-linear storytelling through exploration, discovery and interactivity. It features dozens of rooms, secret passages and interactive light and musical objects that guests can play for hours. Guests are also invited to investigate the mystery of the Selig family, who disappeared one night after conducting a forbidden experiment inside their Victorian mansion.
Jonathon Vento, Founder and Principal Developer of True North Studio, expressed his commitment to Phoenix as a great american city and arts hub, "Meow Wolf's presence will give Phoenix a spectacular boost in our ability to work with local artists and to attract and retain the kind of creative workforce necessary for success. The Meow Wolf Exhibition and Hotel will be the new epicenter for the arts, entertainment, and tourism in the State of Arizona."  
The partnership aims to boost Phoenix's economy, as well as bring wonderful art opportunities to the valley.