I use a bullet journal for many things in my life and just recently I started to use a bullet journal to track my weight loss goals and to achieve other health goals. A bullet journal for weight loss helped hold me accountable and kick-started my new healthy and active lifestyle.
Keep a Food Diary for Nutritional Tracking
First, you will need to start with your eating habits. Keeping a food diary in your bullet journal is going to be extremely beneficial. Start with writing down what you eat and when you eat. Also, keep track of how you feel. This will help you eliminate food items that you might have a sensitivity to or are allergic to.
The most important thing about changing my eating habits was the amount I ate and when I ate it. I knew I had to start eating smaller meals more frequently throughout the day. With the bullet journal, I kept track of what I ate for breakfast and at what time along with what I ate for my snacks and other meals. This also held me accountable for planning dinners and meal prepping.
My bullet journal also was used to keep track of my grocery lists so that I always had healthy options on hand. There are a few different ways you can keep a food diary. Find what works best for you and remember, it is always ok to change things up after a while and revise your bullet journal so it best suits you! A bullet journal is also a great place to keep healthy recipes and as well as a list of products you use so it will be easy to reorder when you need more!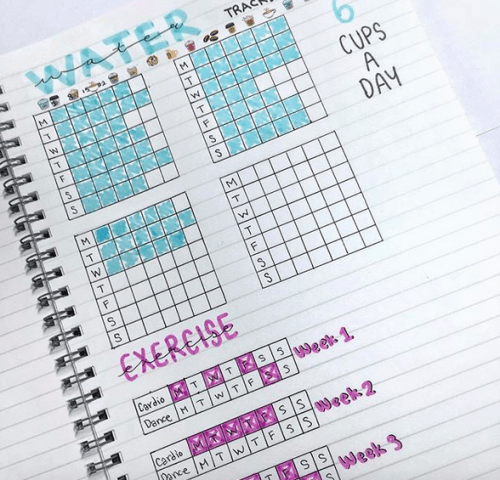 In addition to keeping track of my food, I also kept track of my water intake. Dehydration can cause many issues, including the inability to lose weight! Since I used my bullet journal to keep track of how much water I drank, I was able to hit my goal daily!
Track of Your Fitness Routine
Working out at first isn't always easy. A bullet journal held me accountable and helped me plan out my workouts. I started making it a habit of running stairs and attending a fitness class every Tuesday, Thursday and Saturday. I would keep track of these workouts and my progress in my bullet journal. I then started added in an additional workout like spin class every Wednesday. My bullet journal helped keep all of my workouts organized. Plus, it was a great place to write down exercises you can do at home like squats, sit-ups, lunges, burpees and more. A bullet journal is also the ideal place to keep track of your personal records. For example, I would keep track of my mile time each month to see how much I have improved.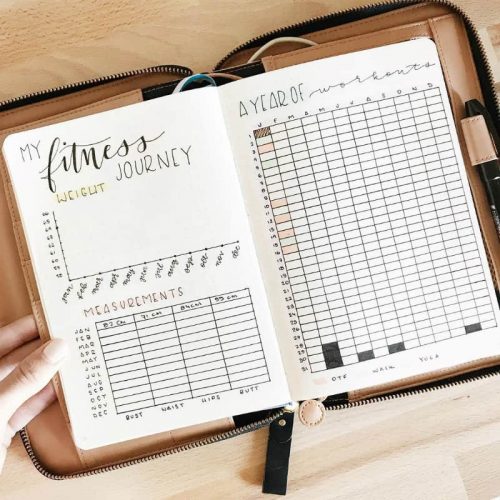 Record Your Measurements to See Your Progress
The best part of the bullet journal for me was keeping track of my measurements. During my 8 month journey, I would keep track of my weight, body fat, metabolic age, muscle percentage and visceral fat. This would help me keep track of my goals and see where I needed to make improvements to get the results I was looking for.
Add Photos for Visualization
Photos were extremely helpful to add to my bullet journal. I started including photos that would inspire me, like photos of my dream body. I then posted before and after photos to start seeing my progress. This was life-changing. Being able to see my accomplishments in a photo was huge and was a big part of my bullet journal. I highly recommend you include progress photos along the way, you won't regret it!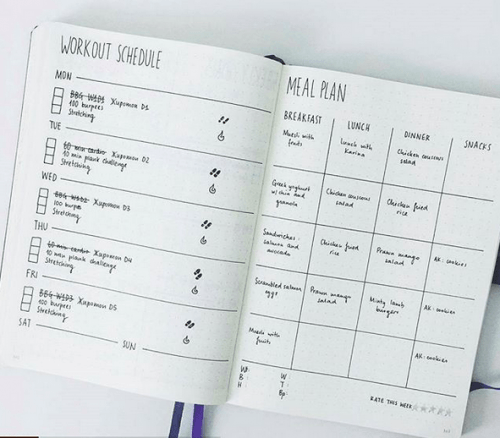 Jot Down Daily Affirmations to Keep Your Motivated
Not only do you need to work on your eating habits and active lifestyle, but you need to also work on your mental health. Daily affirmations are going to be your best friend during this often times difficult journey. Use your bullet journal to write down motivating quotes and affirmations that you can read daily. Also, try to schedule in time to meditate and read self-help books.
So, What Were My Results?
After about 8 months of changing my eating habits and working out at least 3 times a week, I have lost 50 pounds and 13 percent body fat. I have also gained over 5 percent muscle and my visceral fat is now at a healthy level. Thanks to my bullet journal, I was able to achieve my health goals!